Your employer value proposition (EVP) outlines exactly what makes you unique and, in many instances it will be the driving force for encouraging people to join your organisation. Your EVP must resonate with your employees first, which is why it's important you only approach this stage after you've dissected all the data from your employer brand discovery phase and employee engagement survey.

What is an employer value proposition / EVP?

Your Employee Value Proposition (EVP) is described as the unique set of benefits that an employee who joins your organisation can expect to receive in exchange for their skills, experience and capabilities that they bring to your company. Your EVP is a promise upon something you offer and therefore it needs to deliver.

What makes up an EVP?

The main components of an EVP will be influenced by the following areas: Culture, Environment, Career, Benefits, Compensation, and People. Within each of these areas you can begin to identify what you as an employer can offer to your people when they join you. Your EVP will consist of around five pillars (sometimes less, sometimes more), and should be communicated in a way that is unique to you. These pillars are the backbone of your EVP, but for marketing purposes you should also look at creating a tagline to help bring these pillars to life too.


EVP Example

So we've highlighted what comprises an EVP, but to help get you started we wanted to share an example from one of our clients to give you a better understanding of how you can position yours.

EVP Pillars:

Invested in you – We'll provide the tools, technologies and development opportunities to help you be your best.
Make an Impact – Every iVendi employee can impact our success, regardless of job title.
We're better together – We're a growing tech company but our close knit community is here to stay, no matter how much we grow.
We celebrate individuality – We value what makes every member of our team unique.
Connected collaboration – Collaborative teams that are always here to support each other, even if working miles apart.
Work hard, play hard – At iVendi we work hard, stay positive and make great things happen. We like to have fun at work and celebrate our successes together.
Tagline: Join the Journey

This EVP headline is designed to be punchy whilst highlighting that iVendi are offering the chance to join a company that is on a journey to transforming the automotive tech industry, at a time where their journey is set to accelerate scaling and expansion into new markets. The use of "journey" also gives a nod to the area of technology iVendi specialise in (automotive), and visuals can compliment this also.

See more here.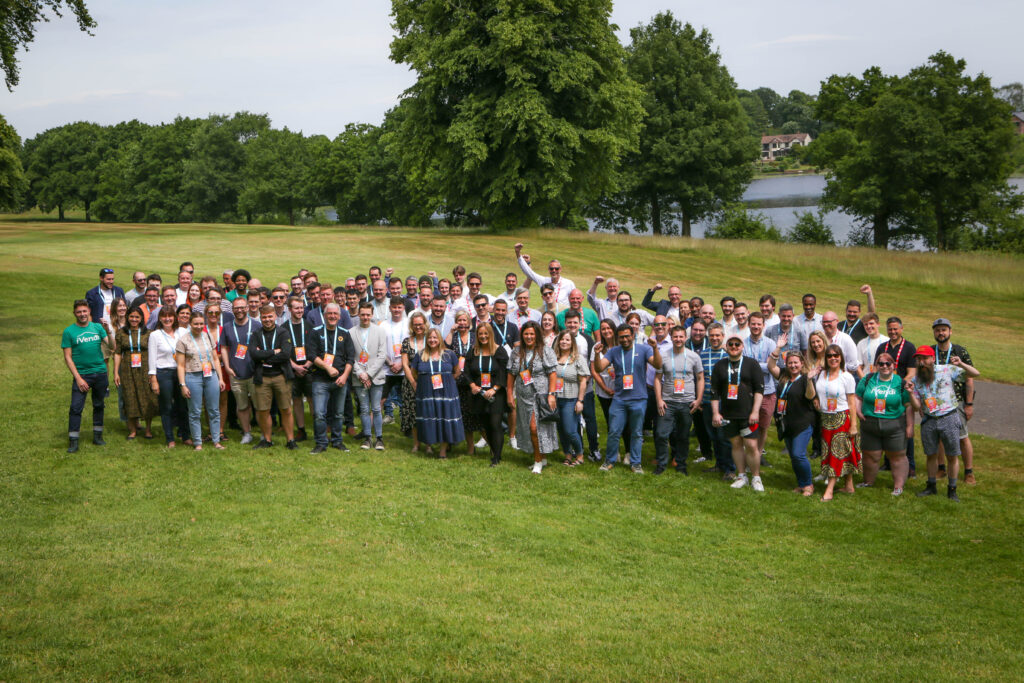 Choosing your EVP pillars
You will have mapped out your potential EVP pillars with your employer brand team at your discovery phase, but you must ensure this matches up with the findings from your engagement survey to be confident that they truly resonate with your people. To choose your EVP pillars you will want to identify your strongest findings from the survey data. Five is a good number, but don't be afraid to go for less, or even more if you feel it's really relevant. This is all about crafting your unique EVP, finding the essence of why people join you, and why they choose to stay.

Crafting a tagline
Your EVP tagline should embody your employer brand, and act as a key player in how you will communicate this both externally and internally. Short and snappy is our personal preference, after all you will get down to the details with your EVP pillars. Here are a few examples of EVP taglines to get your juices flowing to create yours:
Apple = Join us, be you.
Burberry = Protect, Explore, Inspire.
Google = Build for everyone.
Mars = Your tomorrow starts today.
SAP = Bring Everything You Are. Become Everything You Want.
Unilever = A better business. A better world. A better you.
The next steps
Once you have formalised your pillars and tagline, you are ready to include these within your wider employer brand guidelines. Not sure how to do this? Luckily that is the next edition of this blog series! Watch this space to learn more.