Earlier this year Boris Johnson unveiled the Government's roadmap plans to move from lockdown to normality *touches wood and prays* between late March and June 2021. Taking gradual steps to cautiously ease restrictions whilst the UK population is vaccinated provides a roadmap for many of the businesses that were forced to close during lockdown such as hairdressers, non-essential retail businesses and hospitality businesses, but what about those organisations who have been able to adapt and operate remotely? Will this roadmap spark the start of the move back to pre-covid office life? Or will it perhaps be the start of a shift to a new way of working entirely? If you have been on LinkedIn any day in the past year I can guarantee you will have seen at least one post or poll asking whether people prefer to be working from home, working in the office, or a mix of both… it's a conversation that has played out so much during this pandemic that we all have an idea of our personal preferences, and businesses also have enough data to determine whether this is viable as a long term option too. You may have employees who found that they loved the flexibility of home working and will struggle to give this up and go back to a 100% office based role, and on the other hand you may have employees you are asking to work remotely until it is safer to return to work who are chomping at the bit to get back to their desk! It's not a simple decision, so a roadmap plan to help navigate this transition could be the answer for your employer brand!
Creating an employer brand roadmap to navigate changing restrictions
A roadmap plan can help provide clarity and reassurance for your stakeholders and employees, just take a look at this hilarious and frankly highly useful example from Graeme Rutherford, Alex Pamphilon and Katie Baxendale called One Way Road to Beer! But before you start the countdown to your next office party you should ask yourself the following questions.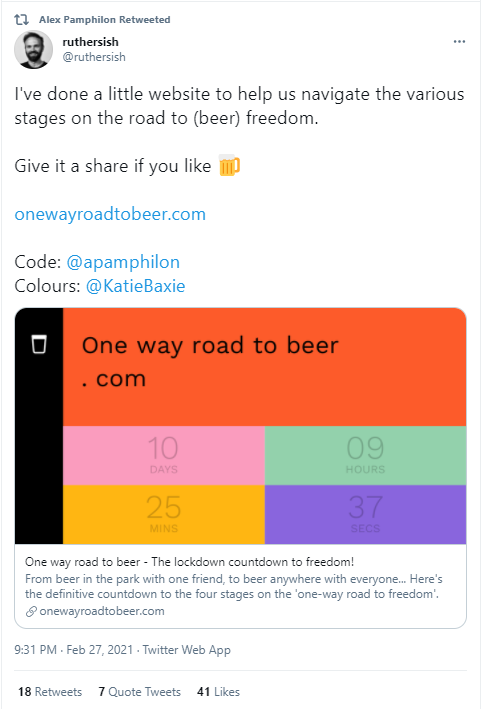 How has the shift to remote working impacted your business?
Depending on what your company does you should be able to examine certain data sets to see how the shift to remote working has impacted you. This could be as simple as looking at your profit margins for the past twelve months, determining whether productivity levels rose or fell when remote working, understanding any issues faced with technology / systems access / team collaboration during lockdown, did you retain / win new / lose clients or customers as a result of having no physical office presence? There is a lot to consider here but this fundamentally needs to be the first thing to consider here. If remote working does not work for your business model, then your roadmap to normality is going to have to look at integrating people back to the office in some shape or form.
How do your employees really feel?
Once you know what viable options your return to work can look like it's important to understand how your people actually feel about returning to the office. You may have assumptions about their preferences, but these feelings can run deeper than a simple preference of home or office. Invite your employees to voice their thoughts and feelings (potentially through an anonymous survey) so you can understand how they really feel. For example are their ongoing concerns around safety if returning prior to a vaccination? Are employees anxious about returning to the same busy schedule and hectic daily commute? Are your employees struggling to focus working from home? Are your people missing the human interaction that comes in an office setting? There are a lot of questions to ask! You may even be in for some unexpected responses, but hopefully nothing on the scale of this TikTok video shared by @SharnaClara!
Would a gradual shift benefit your team?
One thing that the government has learnt from Summer 2020 is that going from a strict lockdown to actively encouraging people to "eat out to help out" may not have been the best approach. Expecting your people to move from the lockdown way of working to 100 miles an hour office life may not be the way to go, so you could consider a gradual shift similar to the 2021 roadmap we are facing over the next three months. This could include staggering days back into the office or introducing teams in different phases, opening up different parts of your premises (e.g. shared canteens, breakout areas) in phases or even looking at other ways to adopt a flexible approach to work-life (e.g. condensed working weeks / flexible start times etc.). There are plenty of options to consider here, but a gradual approach will allow you to manage the return in a controlled way, so it's worth considering!
Providing hope and motivation for your team
One thing the roadmap to "freedom" has done for the nation is act as a beacon of hope, and allow us all to mentally make plans. Plans such as holidays or events with our families and friends give us something to look forward to, and this approach can also be great for your employer brand. For instance, if you normally hold events for your organisation such as a Summer conference, an annual trip away or just an office celebration, why not put a roadmap in place to deliver experiences to your employees in line with the government guidelines? That something to look forward to can be perfect for boosting morale, so get planning and set the countdown!
Looking for employer brand inspiration as the clock ticks? Check out our blog "Bringing Fun Back To Your Remote Company Culture".