Marketing teams work tirelessly trying to come up with new and unique ideas of ways to promote their company without just following generic overused trends. However one trend you can always rely on is the holiday season. Every year people celebrate Christmas, more than 2 billion people in over 160 countries say that Christmas is the most important holiday of the year to them. This time of the year is full of opportunities to develop and expand your business through effective Marketing. So why not use this to your company's advantage and implement Christmas related content into your Marketing content across December? Find out how with this Blog!
How to involve Christmas in your Marketing projects
The holiday season is the perfect opportunity to develop a stronger relationship between your company and the customers. Posting Christmas related content around the 25th of December is such a simple yet effective way to keep brand awareness and boost engagement on your business' social media accounts.
So what type of Christmas content should your Marketing Team be creating? Posts or TikToks about Christmas Award ceremonies you might attend or Ball's, your work Christmas party or even just hosting a work Christmas jumper day in the office. Anything Christmas related is a great start point! You could also write a Blog with information and photos of these events across the holiday season. It allows you to connect with you're audience in a relatable way and allows them to connect with your company and allows you to come across as more trustworthy and reliable.
If you're still struggling for inspiration on what content to create around Christmas take a look at the visual below with 8 ideas to help make it the most wonderful time of the year for your socials!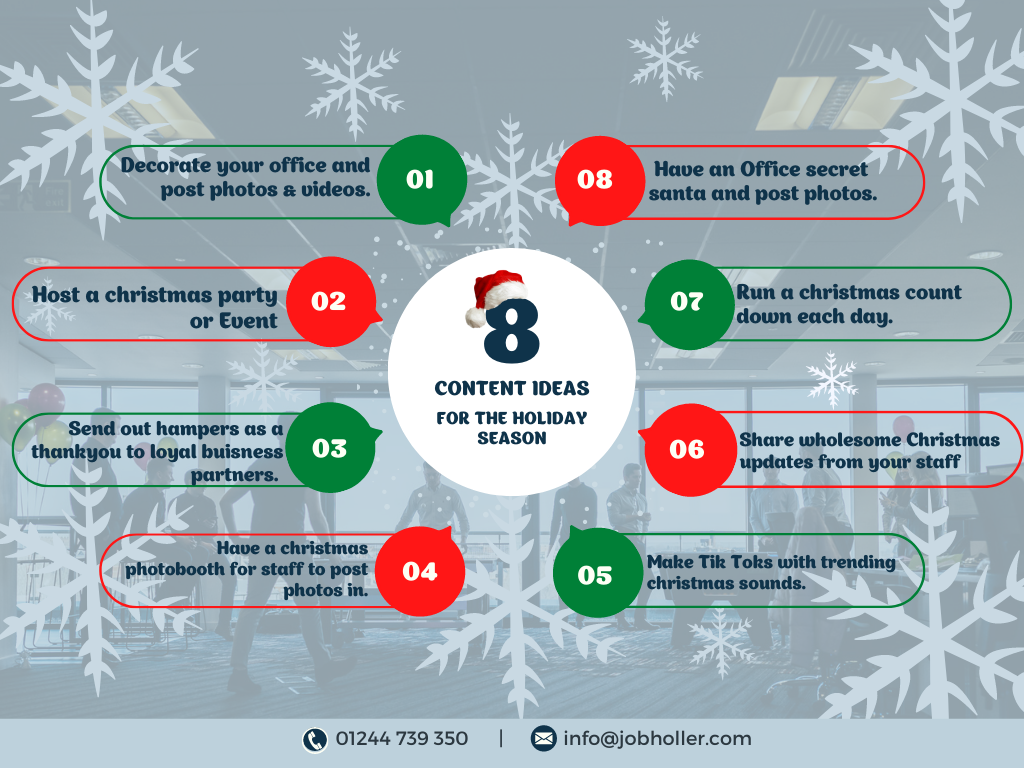 Why should you use the holiday season to your marketing advantage?
Is it really essential to your business to use Christmas Time to your marketing advantage? Well not only can this ensure you're keeping up with new trends and staying relevant, it also shows that you're trying to be relatable by not just re – posting the same content over and over again. It also gives your marketing team inspiration as there're always interesting events happening around the holidays that your team can post about.
An easy way to make sure you're definitely using the holiday season to your advantage is by planning content creating and using a Marketing Holiday Calendar or having a Timeline setting out all of your Marketing Team's Christmas Plans. This helps maintain organisation within your marketing team as well as allowing you to set out marketing campaigns far more efficiently. You can start by setting out a draft of what your company aims to achieve across the Christmas period, this can be done far in advance in Autumn so that any changes can be made in ample time if necessary.
Timelines are also so Important so keeping track of key events across the Christmas season will keep you up to date – having a holiday calendar or Timeline like the one below, with all key dates on helps you to connect with your audience.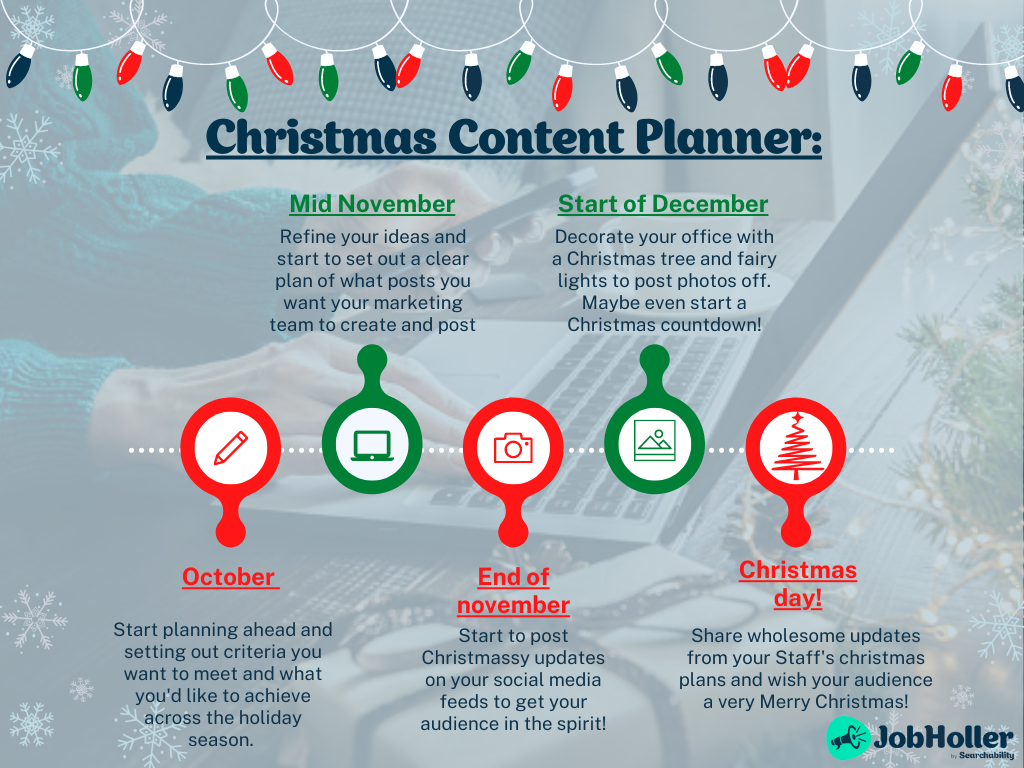 Improving Brand Image & Awareness across Christmas
Another key reason to use the holiday season to your advantage is to ensure you maintain brand awareness. This helps your business to stay connected to the world and with your customers. This also makes your content so much more relevant and relatable for people to watch. By doing so, it will also allow you to reach even more users as hashtags related to holidays will trend around Christmas Day , meaning people will both intentionally and unintentionally stumble across your marketing posts!
This naturally will also cause boosted engagement on your content as people are likely to have a little look at the other content you've made previously. To make sure you get the most of your holiday related posts ,make sure to do your research and use trending hashtags to reach even more people. This will maximise the potential of your Christmas content and will ensure you reach as many people as possible.
Further to this, you will also maintain a symmetrical and coherent brand image as all your marketing teams will be on the same page as each other. This is because all of your company social media accounts will look similar if they're all posting about the same events around Christmas. Green and Red are really key stand out colors that represent Christmas time, therefore an easy way to ensure you keep your company's branding coexistent but also still within the festive theme having Pops of red and green or little snowflakes and other festive visuals dotted around on your socials will create an attention grabbing effect on customers. This is a great way to make sure your social accounts are all matching without the need to plan meticulously ahead .
Marketing teams should all aim to have plenty Christmas posts in November and December to help organise your content and reach even more engagement. If your business needs any further help with your employer brand get in touch with a member of the team here at JobHoller by email on [email protected] or give us a call 01244 739 350.