March is a month where we celebrate Women's History, and earlier this week we recognised International Women's Day too. If you were on social media at all on Monday, you were bound to see a range of posts celebrating International Women's Day, from inspirational quotes, team photos and videos showing how individuals are taking action for gender equality. From an employer branding perspective, taking part in International Women's Day celebrations and using your platform to help raise awareness for these issues is a great way to demonstrate your commitment to tackling gender bias. There were so many posts to mention, but here are a few examples of how companies celebrated International Women's Day this year:
Searchability #ChooseToChallenge
We are kicking this off with our own example, as we teamed up with a few people at our parent brand Searchability to share our views on what we would #choosetochallenge, specifically for the industry Searchability operates in – IT and Technology. Women in tech are still hugely under represented, with only 19% of the industry being occupied by women. Take a look at the blog to learn more, or check out the video here:
Sky driving positive change for International Women's Day
Sky understand the importance of investing in their people, their culture and their employer brand. We have seen a number of initiatives from them to actively increase diversity, such as their pledge to increase the proportion of employees from minority backgrounds, so we knew that International Women's Day would be highly celebrated by the team there. Their @LifeatSky, @EarlyCareersSky and @SkyCorporate channels all shared content showing how they were supporting International Women's Day, and we were able to see lots of employee advocates posting from the Sky employees too. Posts included team posts supporting the #Choosetochallenge initiative, employee stories of why Sky is a great place for women in tech, posts to demonstrate how the company is driving positive change for women in sport, as well as streaming documentaries, series and movies to help raise awareness too. Bravo Sky!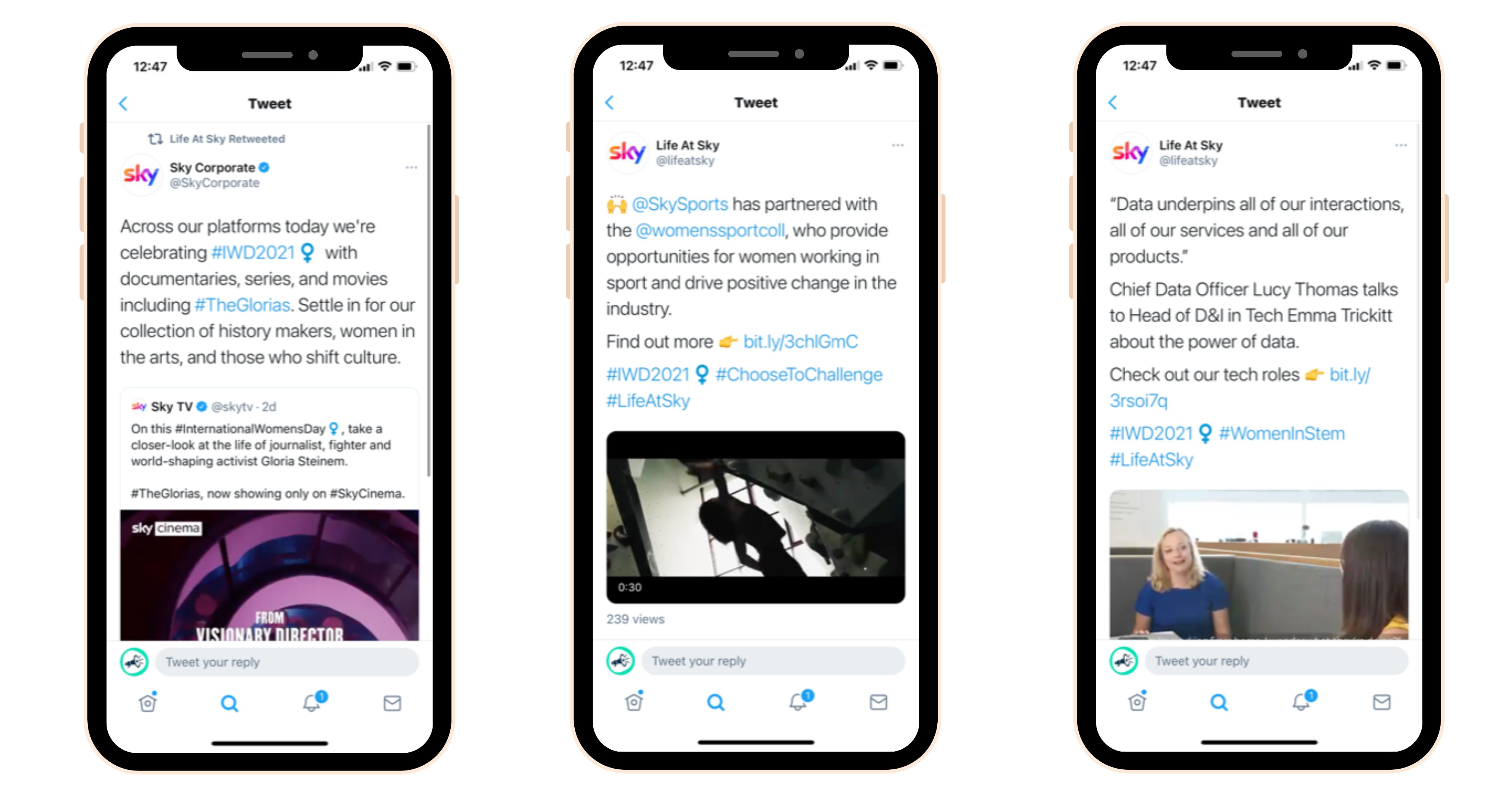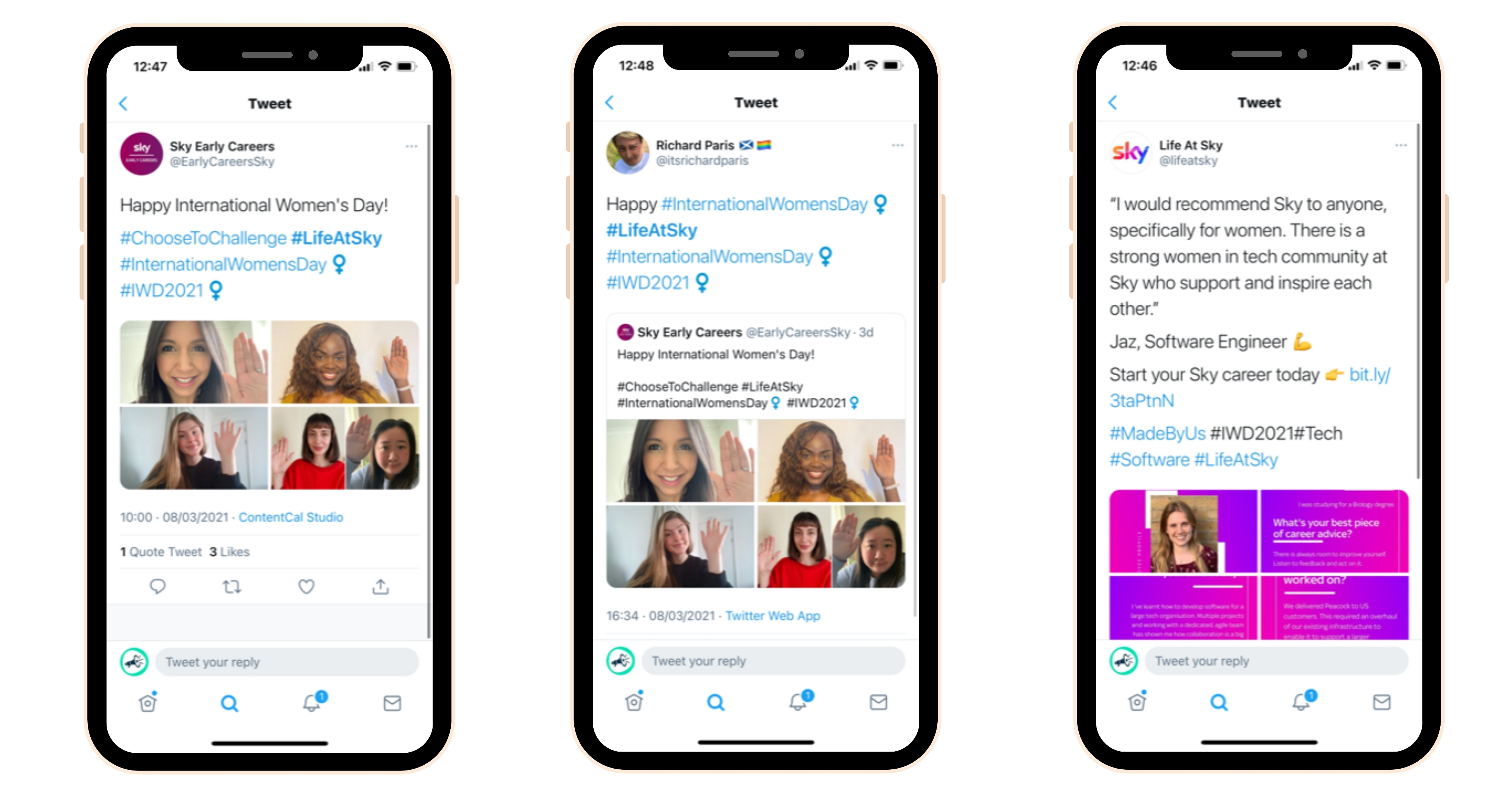 Selfridges share stories of women who inspired them
Selfridges shared an uplifting video on International Women's Day, featuring a variety of their people from Group Chairman Alannah Weston to Doorman Nick Caccavone all sharing stories of women who have inspired them, whether that's historical figures, politicians, family members or other. You can view the full video here.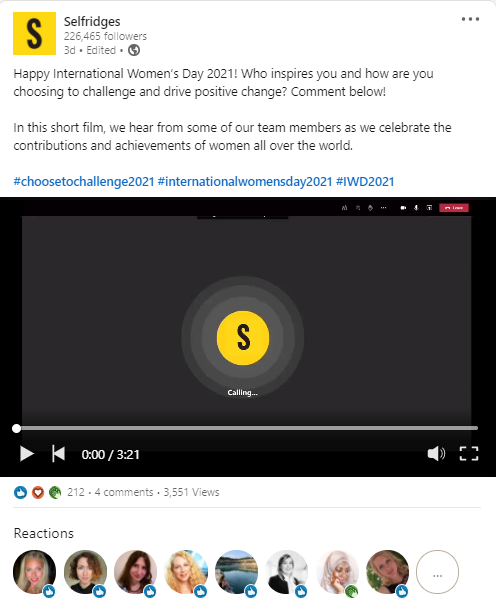 MMT Digital celebrating women and hosting #WomenInTech events
MMT Digital – The UK's most recommended digital partner – took to social media to share some of the amazing ways they had celebrated International Women's Day. This included employees' commitments to #choosetochallenge as well as a company quiz where the team recreated images of inspirational women in history too. Later this month they are also hosting a tech meetup dedicated to women in tech.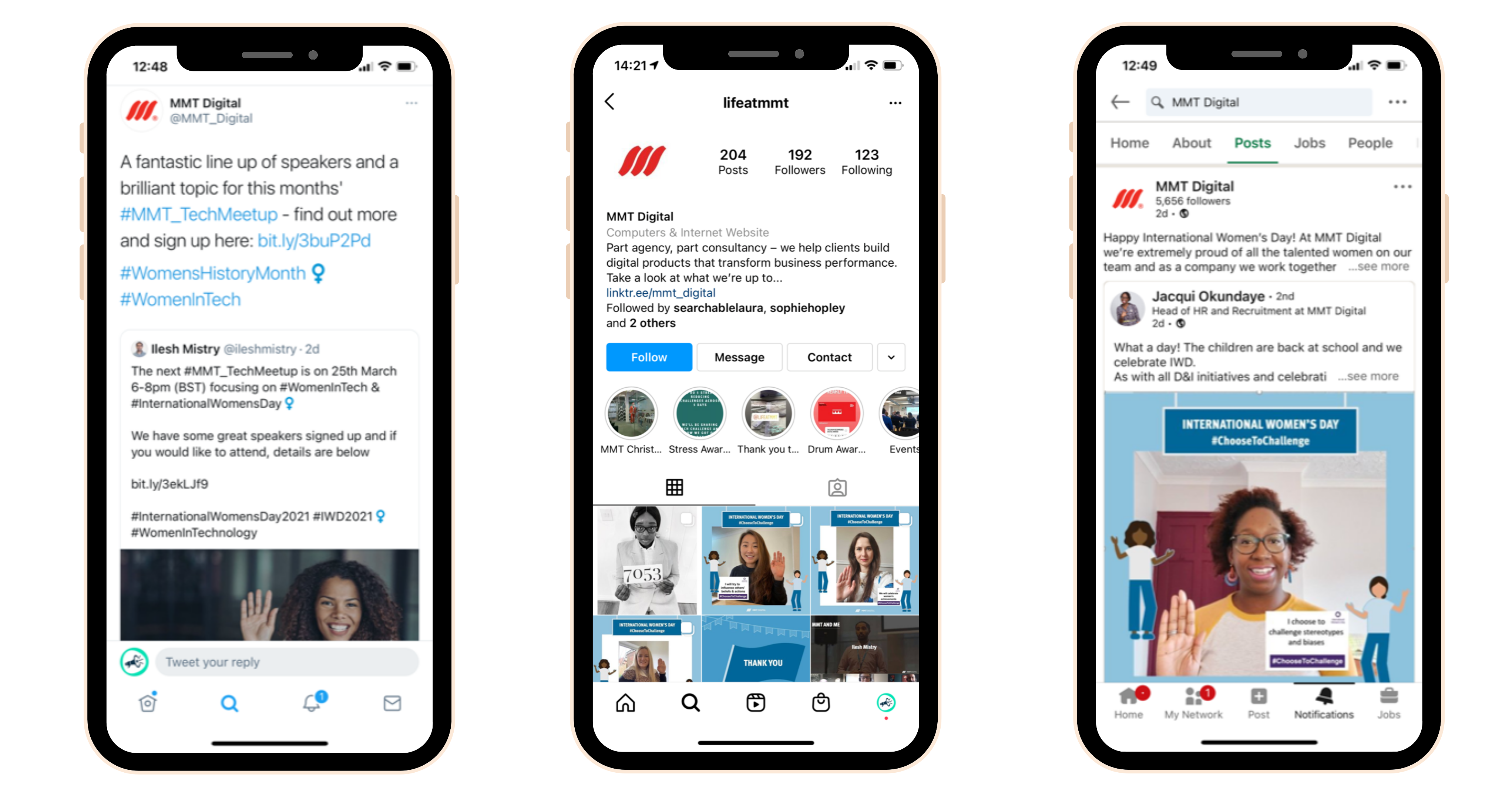 Google offers bespoke content and launches a $25M fund to empower women and girls
Another company who champions their employer brand is of course Google, so we took to their @LifeAtGoogle Twitter account to see how they celebrated International Women's Day this year. One way was to allow individuals to curate content based upon their own interests, content included Tech Talks, Health and Wellness sessions and Professional Development Workshops. They also chose to announce the #GoogleImpactChallenge, which is a $25M fund to empower women and girls to reach their full potential.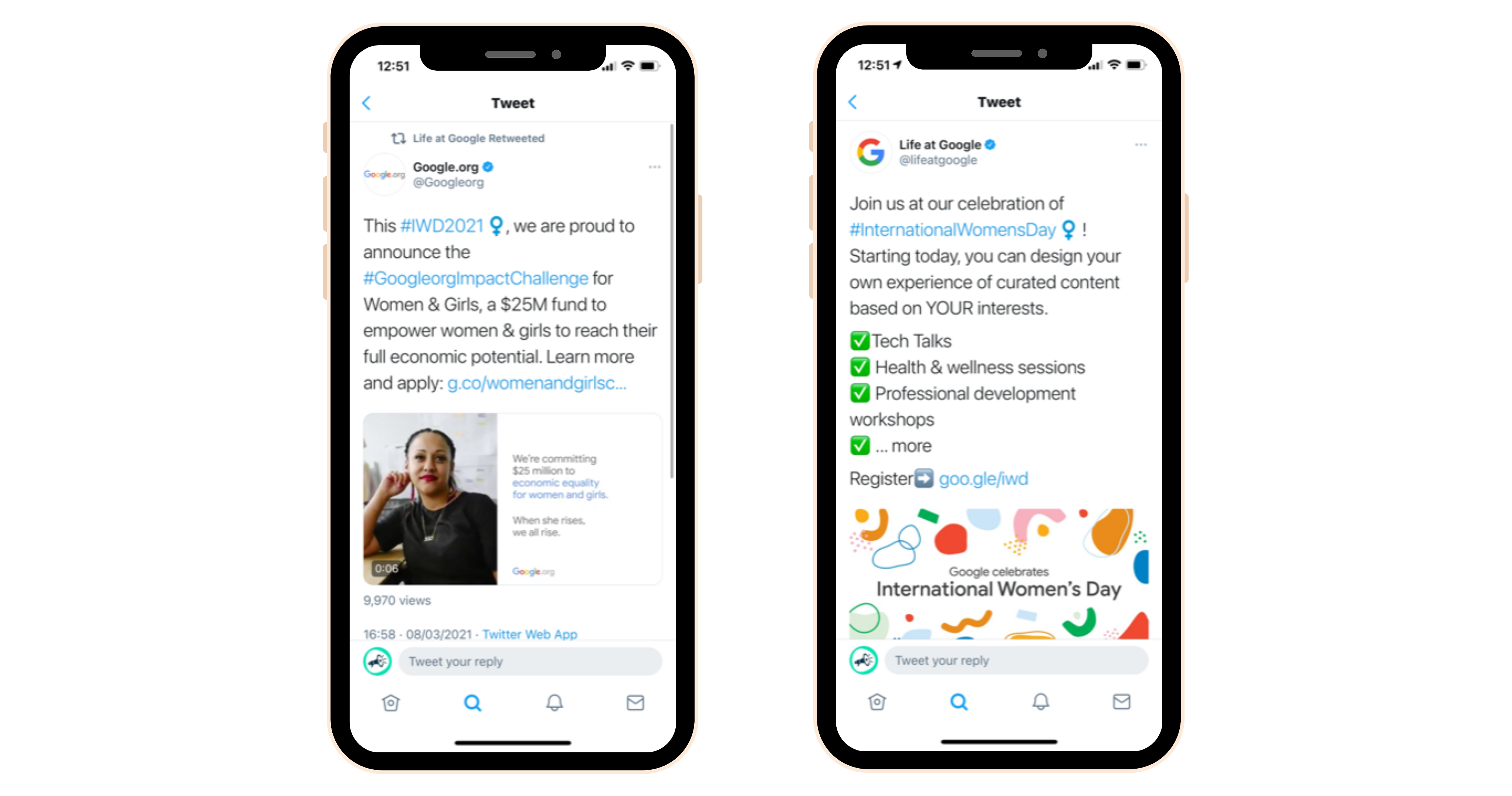 More support from companies such as ASOS, Jaguar and Lockheed Martin
We were spoilt for choice when selecting examples to include in this blog, but we felt we wanted to squeeze a couple more examples in! ASOS are a brand who like Searchability, champion women in tech, so we were pleased to see them taking the opportunity to share inspiring posts of their own women in tech community, challenging to beat gender stereotypes in the industry. Jaguar gave a nod to the day by creating a Spotify playlist of empowering anthems from the world's most iconic female artists. Lockheed Martin demonstrated how they are committed to creating an inclusive and diverse workplace, with Engineering Excellence Lead Nazia sharing her perspective on gender balance.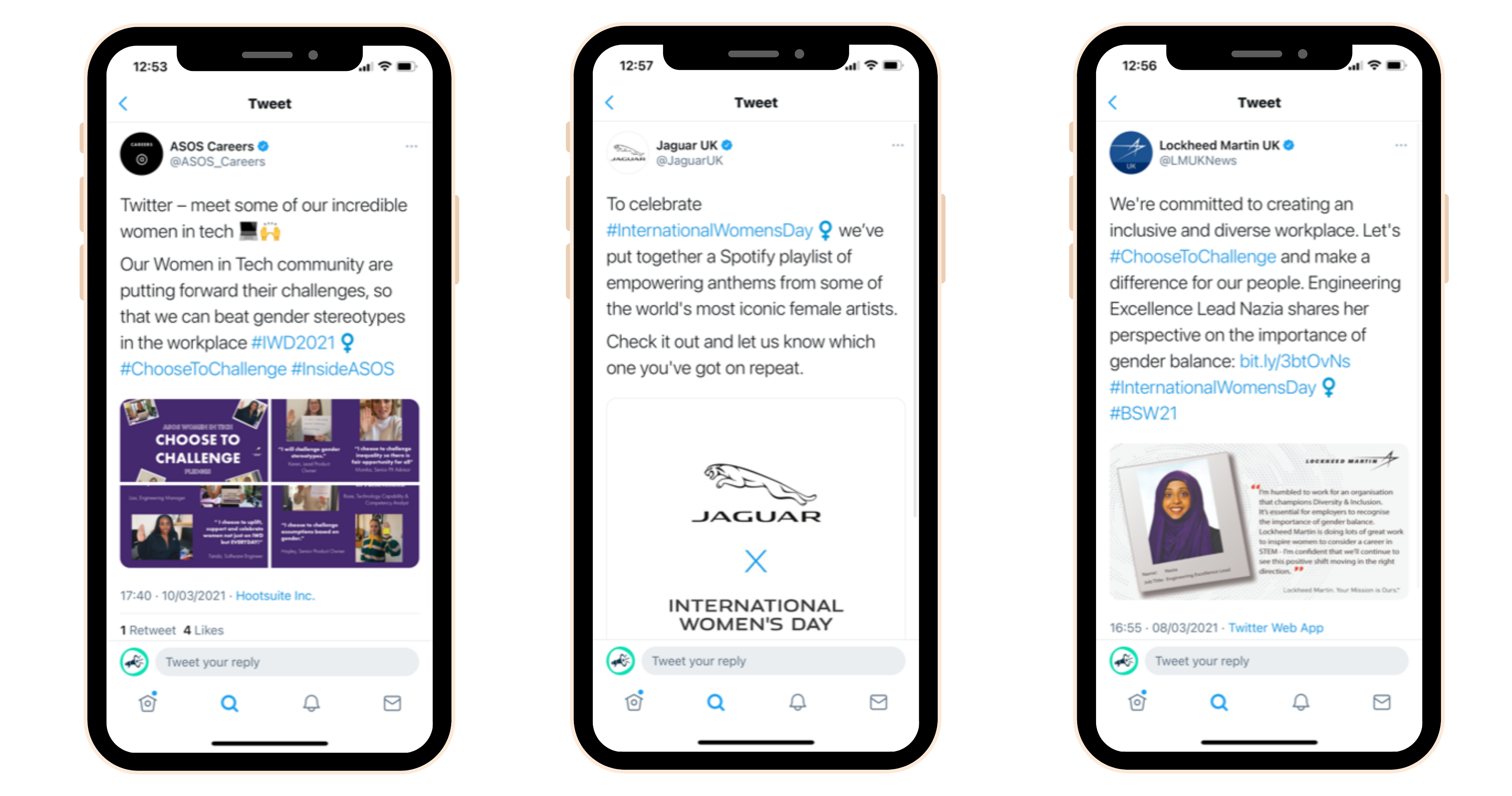 Did you celebrate International Women's Day this year? There is still time to #choosetochallenge – click here to learn more.