When you think about using social media to recruit, most people automatically think of LinkedIn. Whilst LinkedIn is the go to for "professional" networking and therefore more geared towards recruiting, the competition for talent is high and you are having to be heard above the noise of lots of other jobs. Now there are ways to get the most out of LinkedIn, but that's another blog for another time, let's focus on another option right now.
If LinkedIn isn't working for you or is too expensive based on the results or if your recruitment methods currently consist of advertising on job boards and receiving lots of unqualified and unsuitable applications, Facebook could be the missing link in your strategy.
Why Facebook For Recruiting?
It's the largest social network and has nearly 15 times more active users than LinkedIn! It's the perfect place to showcase your employer brand and attract those perfect candidates. It's particularly effective for sourcing passive candidates and using a combination of posts and ads you can reach those hard to reach candidates easier.
Facebook is becoming an increasingly valuable tool for recruitment and as this is a fairly new area to most companies this is the perfect opportunity to get a head start on the competition.
Realising this, Facebook are working behind the scenes on lots of recruiting tools. We don't yet have a recruiting function called Graph Search in the UK, but the US and Canada are experiencing great results, so expect it soon in the UK. In the meantime, we'll show you how you can use Facebook as a recruiting tool now.
Let's look at some stats –
Facebook has 2.7 billion active users
1.37 billions users log in daily
Each day, users spend an average time of 20 minutes on Facebook
With numbers like this, imagine how many people you can reach with your message!
Managing Your Facebook Careers Page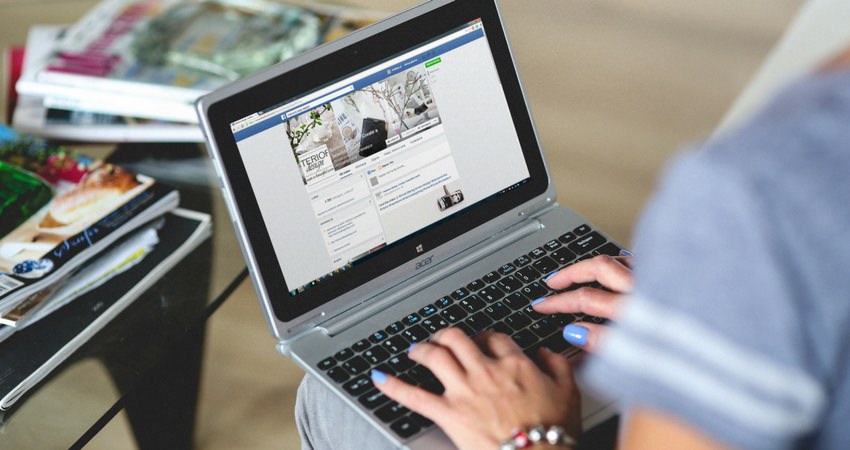 Setting up a page on Facebook to promote your employer brand is the first step towards creating a successful social media recruiting strategy and the results are likely to surprise you. You can have a page purely focused on careers to keep things separate from your main Facebook business page and a lot of companies are doing this with great success.
You can post jobs, link to blog posts, create real stories about your employees and showcase your company culture in your own unique way.
One example of a company utilising the power of Facebook as part of their social recruiting strategy is Next. They use their Facebook careers page to advertise jobs, promote their values and give a real insight into what it's like to work at Next. Like Next, you can utilise a Work For Us section that enables potential candidates to see all the live jobs and you can even set it up so that people can receive job alerts.
Candidates can filter the jobs to match their own profile, join your talent pool and lots of have access to lots of other lovely juicy social recruiting tools.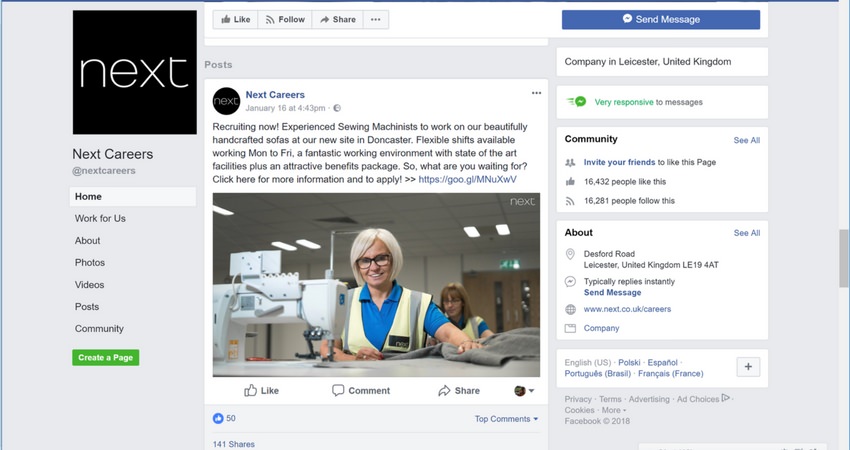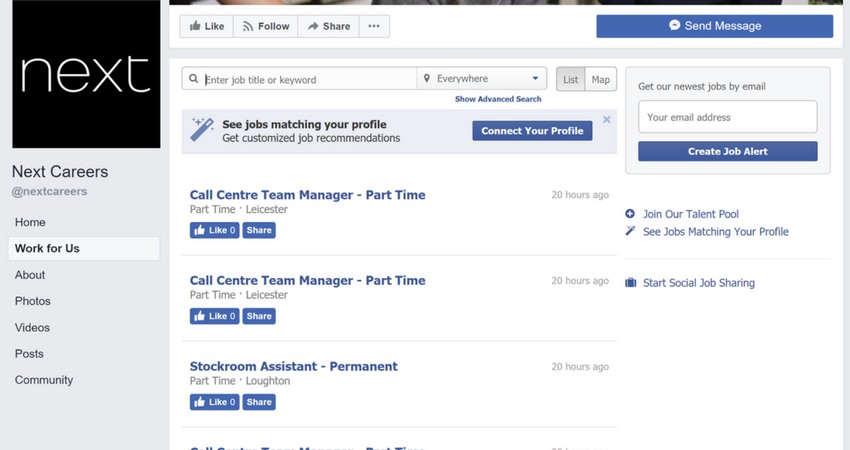 Whilst this is all super exciting and potentially new information to lots of hiring managers, particularly in the SME market (so don't worry if it wasn't on your radar already), you still need to get the message out to the right people and this is where things can get really clever.
They key to increasing the number of relevant applications for your roles and creating a talent pool for the future is to really know as much as possible about your target market to help focus your social recruiting strategy. We don't mean a list of names – (although even this is possible) but more a target profile of the perfect candidate. What are they interested in, where do they live, where do they work, what is their current job – there is such a wealth of information held in the database of Facebook and it's all available through the Facebook audience optimisation tool.
Social Influence Tips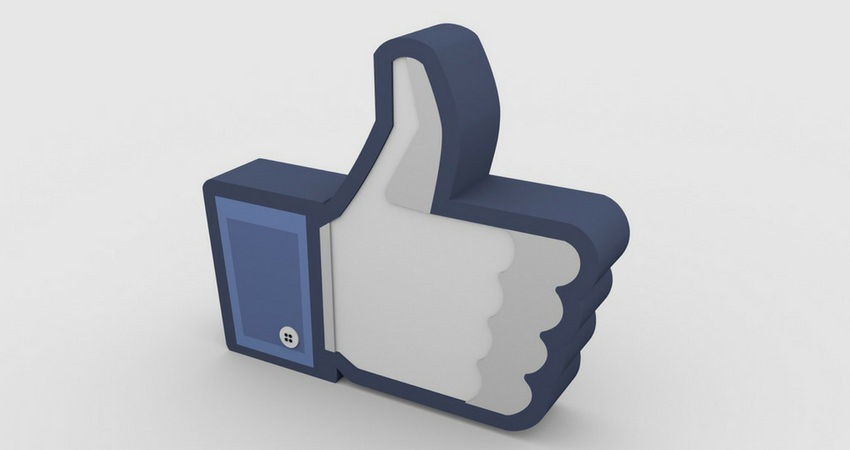 Once you have created the perfect Facebook careers page you should encourage all your employees to like and follow. This way, it's easier for them to like and share any posts across their network. We've written a number of blogs on Employee Advocacy and this is such a great tool to tap into on social media. It's likely that there are people within your employees networks that are perfect for your open positions and who are likely to fit in with your culture.
What you should find is that there will be two main groups who will follow your Facebook careers page – the first should be your employees and the second should be people who are interested in working for you either now or in the future.
It's important to make sure that your posts are of interest to both groups to help encourage engagement and interaction. Remember that it's the interactive appeal of Facebook that can make it so successful for recruiting.
Here's some ideas of posts –
check
check
check
check
check
check
check
Whilst you can schedule posts to make sure they are distributed at the most effective time, the real magic can happen with targeted adverts. These can be static images or even videos – just be sure to make sure that they are within the guidelines – Creative Hub is the perfect tool within Facebook where you can check this before committing to any advertising.
There are lots of targeting opportunities available to you from the basics of location, interests and job title, to the really clever stuff of targeting people that have looked at a particular page of your website – the careers page – or, have looked at your Facebook careers page. This is a very cost effective way of generating more relevant applications.
Most candidates don't act on the first visit and need to see something relevant 2 or 3 times to take action. The good news is that as this option is so targeted, the cost-per-click on any advertising is lower than a general advertisement.
And one final tip – make sure that you check the messages to your page regularly and respond as quickly as possible. You may find that answering a simple question from a message can make the difference between someone applying or not and it all goes towards creating a positive candidate journey.
There really is so much more than we have covered in this introduction that will really help kick start your Facebook management for recruiting. So if you are still struggling with how to get the best from Facebook for your social media recruiting strategy – get in touch and let JobHoller​ take you from zero to hero!
DOWNLOAD OUR FREE ESSENTIAL GUIDE TO EMPLOYER BRANDING
Everything you need to know about discovering, shaping and promoting your employer brand to help you recruit.