Employee motivation should be a top consideration for every organisation, it helps increase employee productivity, engagement and can often be the key to hitting your company goals! If you asked your CEO today if they would like to have higher productivity, better employee retention and bigger company success the answer would be 100% yes, yet SO many companies are lacking in a strategic approach to employee motivation. A report from Gallup stated that as little as 13% of employees believe they are engaged at work, which means there are a lot of companies making some big mistakes around employee motivation. We've pinpointed 10 employee motivation mistakes that you will need to avoid if you want engaged, productive and loyal employees at your company!
10 employee motivation mistakes to avoid:
Assuming you know what will spark employee motivation
Whilst getting together with your Director and managers to map out ideas to improve motivation is a really positive step to improving motivation levels, it's important to take a more considered approach and actually find out what is going to make your employees "tick". For example you might look at your benefits package and think that introducing something extra like a "free gym membership" will make your employees smile, but if you don't ask their opinion you could be wasting your budget on something that your employees just do not care about! Regular employee engagement surveys and evaluation of which benefits are most used etc. is a perfect way to do this. Put it to a vote, ask questions like "what would improve your experience working here?" and "what would encourage you to go over and above in your job role" etc. You may be surprised at what you uncover!
Bringing in a ping pong table and free donuts
Perks can be a great way to improve employee motivation (as long as your employees love the perks you are offering), but even the sexiest Google-esque perks can not paper over the cracks of a toxic culture. If you have underlying issues such as a lack of trust, poor management and over-bearing workloads then you aren't going to motivate your employees with things like ping pong tables and free donuts! Address the bigger issues before you even think about the "cherry on top" perks. It might be a big task, and depending on what your culture change mission is you might have to have a few uncomfortable conversations and tough decisions to make, but this is crucial to creating a genuine environment that fosters motivation.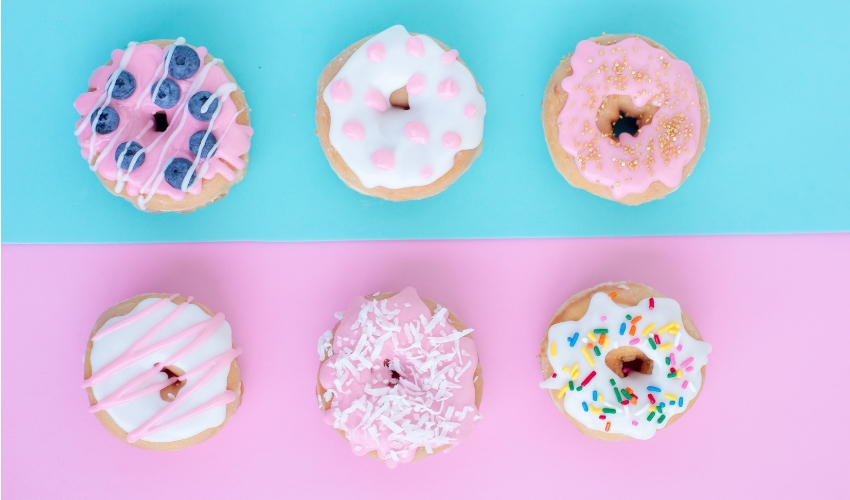 Setting tough or unclear targets
In some roles, particularly sales driven ones, companies believe that targets will help to drive motivation. Sure this will work some of the time, but if you set targets that are too hard to hit then it can stop your employees aiming for those targets altogether. Targets should drive your employees to push a little harder, but do some research and make sure that what you set is actually within reach. It's also important to make sure that any goals or targets are clearly defined, because this can also impact on employee motivation. For example you may have a company bonus that you deliver for employees who go over and above in their role, but without defining exactly what is expected can again cause employees to disengage and stop aiming for these targets.
Not reviewing salaries
People want to feel valued, and the most obvious way that you can demonstrate that you value your employees is to pay them what they are worth. Keep an eye on what your competitors are offering (you can do this through our JobHoller Market Trends tool) and ensure you review yours on a frequent basis. If possible, introduce a transparent salary matrix, so employees know exactly how they can expect to progress within the role.
Get in touch with us for a free trial of our Market Trends salary tool!
Focusing solely on financial rewards for employee motivation
As we have just touched upon in the last point, money is still one of the top drivers for job hunters today. Things like salary, bonus / commission packages and pension schemes can often make or break whether a candidate accepts a job offer or not. It should always be a top priority for your company, BUT as Jessie J once said: It's not about the money (money money)… at least not all of the time! Financial bonuses cannot be consistently delivered to every employee, so instead consider other rewards you can offer that can encourage and motivate your employees. You may have an "employee of the month" scheme, or even use your team meetings to shout about your employees mini-wins in their roles. A pat on the back and a reminder that you appreciate the efforts your employees make will go a long way to increasing motivation.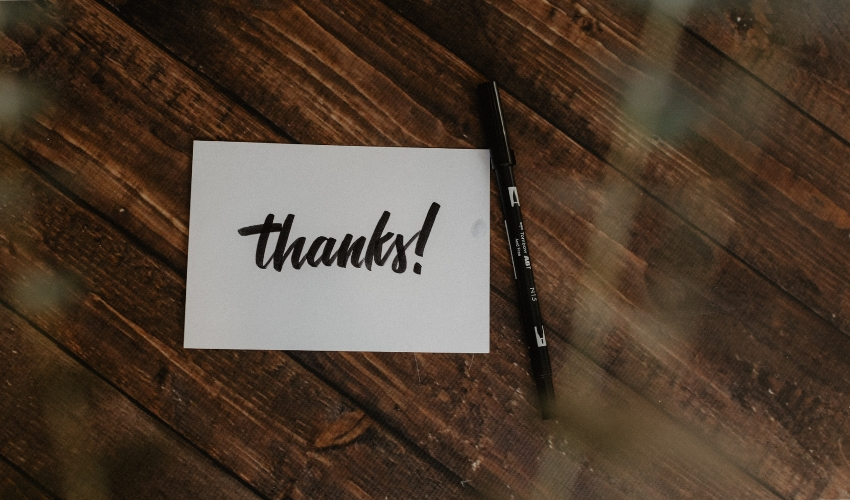 Not making your office layout a priority
It might seem like no big deal to you, but tiny factors surrounding your office layout can kill employee motivation, especially if you are a company with an open plan office! Everything from proximity to the air conditioning, choice of Spotify playlist, the people you sit next to every day and window positioning can have a pretty big impact on how your employees feel. Take some time when creating your seating plan, and if you want real brownie points, involve your employees in your decisions too!
You aren't offering career development
Career development isn't just about creating opportunities for employees to progress through different job roles / levels of seniority, it's also about your employees' personal development too. Your employees are unlikely to be content with treading water or feeling stagnant in their role, so consider how you can help them develop through learning and new opportunities. You could consider something like the old Google "20%" method, allowing employees freedom to get creative and innovative outside of their usual 9-5 duties. This doesn't work for everyone, but if you can find a way to encourage employee development and demonstrate your investment into each individual employee then it will impact positively on motivation.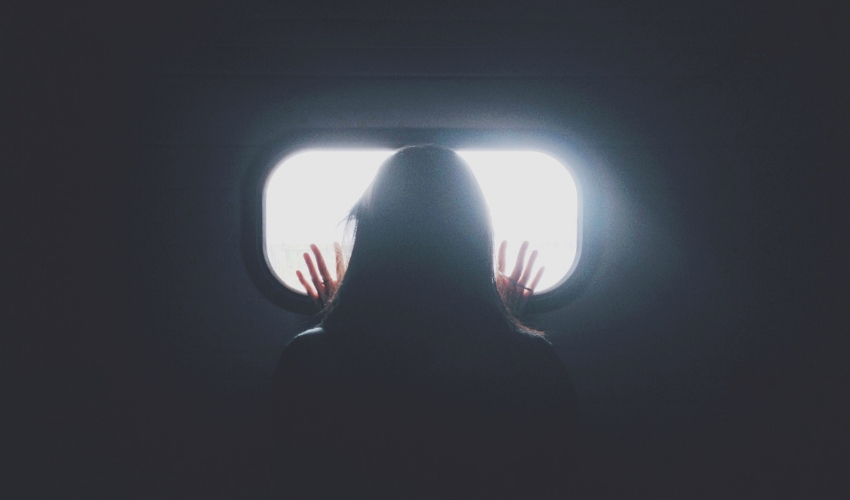 You don't collaborate
Most employees want to have an input into key decisions / work projects, so if you have an environment that does not foster collaboration you might find your employees will feel shut out (and therefore not motivated to get involved in those activities you want them to). Collaboration means genuinely sharing thoughts and ideas, and this extends to your wider employee base and not just those within a management position. This can be difficult to achieve across all areas of your business, but in most cases there will be at least one idea / project / event where collaborative ideas will work well, so take a look at your business and see how you can adopt collaboration into yours.
You have bosses not leaders
A quick Google search for "Boss vs Leader" will bring up a lot of content, with images and quotes such as "Bosses tell you what to do, and Leaders teach you why and how to do it" designed to encourage us to be more inspirational and supportive. Some of these quotes are a little cringe-worthy BUT they have a serious point, take a look at the picture below and see which camp your managers fall under. What's also worth noting is that in many organisations, managers are people who have risen through the ranks and progressed to a point where they have become a manager, yet many of these individuals will have never had any formal training on how to be a "good manager". This is often where the issues lie! Make sure your managers are given the right support and training to succeed!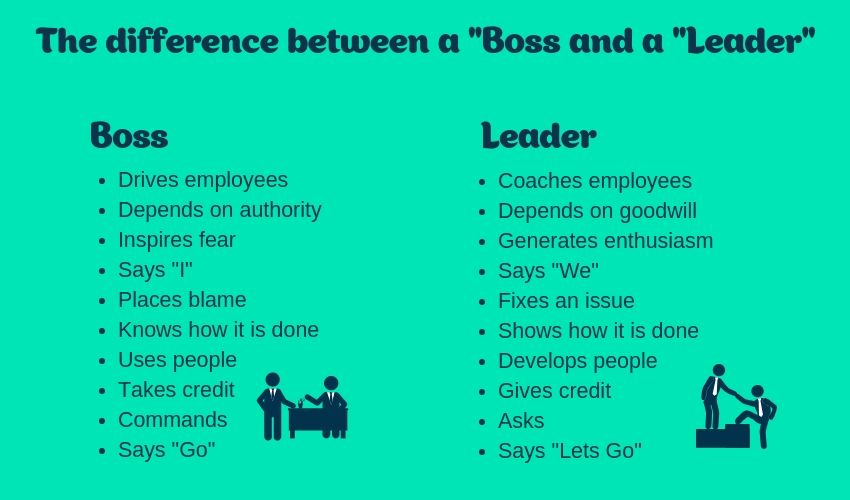 You kill employee motivation with meetings
We get it, in fact we are guilty of it ourselves! Sometimes we have meetings that go on way to long, fail to solve problems and make our employees want to take a big nap! Meetings can however be fantastic for idea sharing, collaborative working and project planning, but son't overdo it! Too many meetings take up employee time, and overly long meetings can cause employees to switch off completely. Ditch the meetings for something more efficient like a morning stand up, and if you must gather the troops in the boardroom, plan ahead so that your meetings are efficient and enjoyable!
Want to hear more about employee motivation? You may want to also check out this blog: 6 Ways To Improve Employee Motivation.