If you work in the field of talent acquisition, then one thing you will know is that there are always new technologies and ideas emerging in this space. It's difficult to keep up with all of these changes let alone get ahead of the curve, so it's essential that you make time in your diary for learning and industry research. One of the best ways to do this is through attending talent acquisition focused events, because not only are they jam packed with great talks and product showcases, but by getting yourself out of the office it also prevents you from getting distracted and allows you to truly focus on new ideas being shared. We are now in October, so the majority of the 2019 talent acquisition focused events have been and gone, but we have rounded up seven of our favourite events to help you plan ahead for your 2020 talent acquisition strategy.
Seven Talent Acquisition Events worth Attending:
For anyone looking at their employer brand: World Employer Branding Day
When was the 2019 event? May 2019As huge employer brand advocates we simply couldn't pull this list together without mentioning the biggest annual event for our industry across the globe! We have partnered with this fantastic event for the last two years, and even delivered a workshop at last year's event in Lisbon too! Employer branding is becoming a huge part of a lot of company's talent acquisition strategy, and this event delivers information surrounding the latest industry research as well as insights into some of the best employer brands across the globe with companies such as Facebook, Netflix, Accenture and more taking part! You will also have the opportunity to connect with the industries top employer branding leaders, discuss global best practice and let your hair down too as you explore a new City! The 2020 event has been announced as returning to the beautiful city of Lisbon in Portugal – check out the website for more information.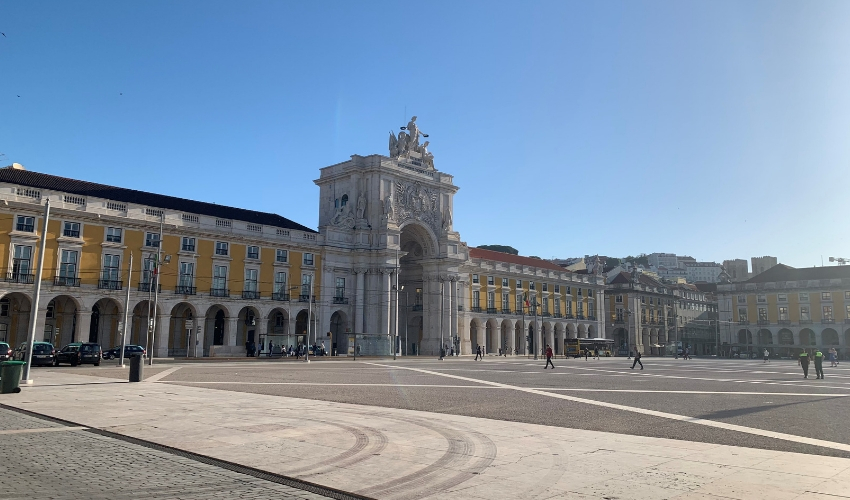 Pictured above: The stunning Lisbon location of 2019 event's workshop day
For anyone using Bullhorn's CRM: Bullhorn Engage
When was the 2019 event? September 2019Bullhorn is a leading CRM used mostly by recruitment agencies to track applications and manage their recruitment processes. Over the past seven years, Bullhorn's London conference, Bullhorn Engage, has transformed to become a leading European recruitment event and a "must attend" for any talent acquisition specialist who uses the platform. You'll gain industry insights as well as tactical product training on a range of Bullhorn products and features too. This year's event saw speakers including Karen Brady (well known for BBC's The Apprentice), and the 2020 event is sure to impress too. Visit the website to learn more.
For talent acquisition leaders: MembersOnly Retreat
​​​​When was the 2019 event? September 2019MembersOnly is a network designed to deliver unique experiences to recruitment leaders across the UK. A membership will allow your organisation to gain access to a range of talent acquisition events throughout the year, and one of their biggest events in the calendar has to be the MembersOnly Retreat. We have been lucky to attend this event for the last two years alongside our colleagues at Searchability, and both times we returned energised, inspired and full of new ideas to help us achieve business success. This event guarantees some of the top speakers in the industry, beautiful settings, lots of networking (and letting your hair down) and even some time for rest and relaxation – something that a lot of talent acquisition leaders don't prioritise in their usual working week! Check out the website for more information, or follow the MembersOnly Butler on Twitter to hear about the 2020 plans!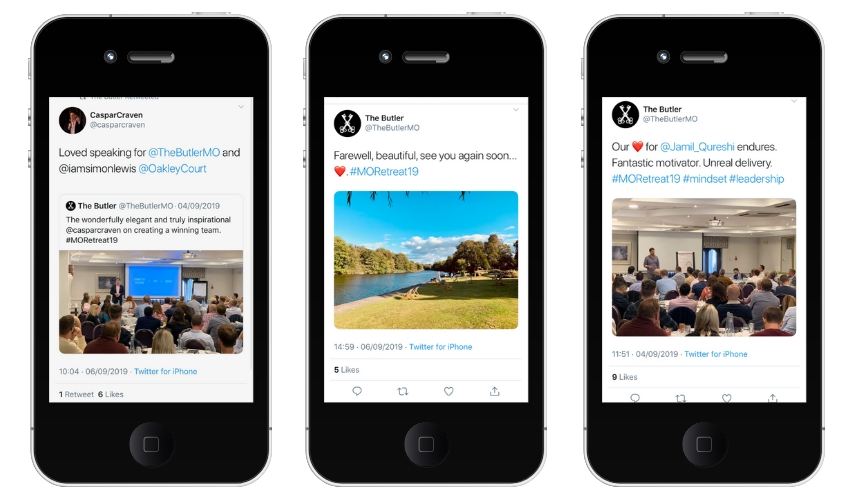 Pictured above: Some of the tweets from the 2019 MO Retreat
For anyone spending budget on Indeed: Indeed Explore
When was the 2019 event? September 2019We had the pleasure of attending this event last week, and we heard some great Insights from a number of Indeed experts as well as a seriously inspirational keynote from Col. Dame Kelly Holmes (MBE)! Attendance is mostly through invite from an Indeed Account Manager, and if you are currently using paid solutions on Indeed we would highly recommend you get yourself down there next year! Not only will you get some great takeaways around CV sourcing, employer branding and job advertising, but if this year's event is anything to go by it will be held in a fantastic London location, with plenty of delicious refreshments and lots of great networking opportunities with agency and in-house talent acquisition teams too. Click this link to learn more.
For the Festival lovers: RecFest
When was the 2019 event? July 2019This event is described as the largest independent event on the planet for in-house recruiting, resourcing and talent acquisition… and it is basically Glastonbury for recruiters! This event takes place in full festival style, so you will enjoy 5 dedicated stages of fabulous talent acquisition content, lots of immersive experiences and activities, delicious street food vendors and plenty of places to grab a drink! Check out their website to hear about next year's festival plans!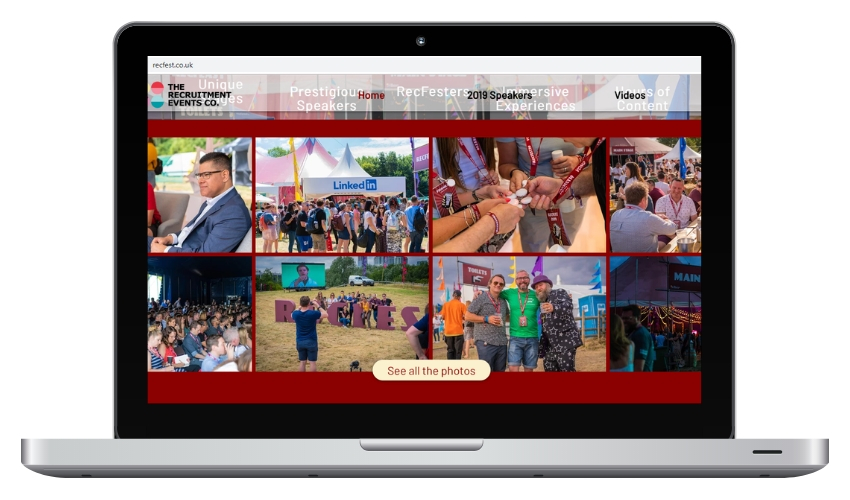 Pictured above: RecFest website – click here to see all of the photos from last year's event
For those looking at new technologies: Recruitment Agency Expo
When was the 2019 event? October 2019The Birmingham event takes place early October, but you can also sign up to attend their next event in London in February 2020. Recruitment Agency Expo features over 100 vendors exhibiting the latest tools, technologies and services all under one roof, perfect for talent acquisition experts who are seeking something new to improve their recruitment strategy. There are also plenty of great speakers lined up, so you are sure to take something away from attending! Click here to learn more.
For the internal talent acquisition team: Inhouse recruitment live
When was the 2019 event? September 2019If you work within an internal talent acquisition team then this is an event you might want to add to your diary! The event attracts thousands of the top in-house recruiters in the UK, with a range of seminars, keynotes and panel debates from over 40 different speakers, discussing some of the hottest trends in talent acquisition such as recruitment technology, employer branding, diversity, tech talent and more! The 2020 event is set to take place in London next September, visit their site to learn more.
JobHoller are set to be Country Partner for the third year running at the 2020 World Employer Branding Day in Lisbon, check out this blog we shared in the run up to this year's event to learn more.