Every company, whether they realise it or not has an employer brand image. This brand image can be shaped through a strategic approach to employer branding, or it can simply exist as a result of how employees and key stakeholders perceive that company, based upon their own experiences and interactions with it. Discovering your employer brand image may not seem like a priority on your recruitment to do list, however it can have a huge impact on your ability to attract and retain talent, and even your bottom line too.
How to discover your employer brand image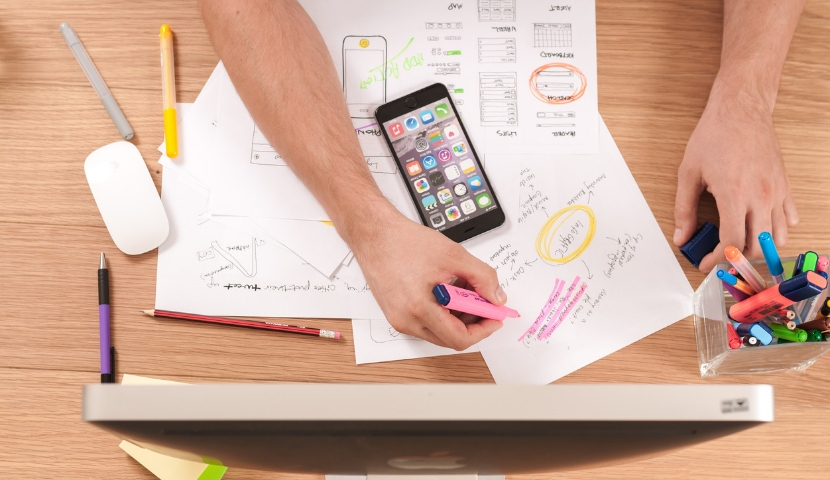 There are certain companies that you think of that bring up strong connotations of their "brand image". Take Apple for example – If you were to think of the imagery / experience you associate with a brand like Apple you'd probably think: state of the art technology, sleek design, spacious showrooms etc. Now take those same principles and think about the "employer brand image". It's something that perhaps only key stakeholders or employees (current / past) may be able to visualise, but you will start to put together a picture and an essence of what this is at your company.Here are a few suggestions to get you started:
Conduct a desktop analysis
When considering brand image for candidate attraction you must take a step back and examine what this would look like to a person that isn't already familiar with your organisation. The easiest way to do this is with a desktop analysis. Put yourself in a candidate's shoes and see what information you can discover about that company online. Visit the website, check out the careers pages, read the job descriptions, see what the reviews are like on Glassdoor, browse the images on the company Instagram and check out the interactions on Twitter. You have a digital footprint that paints a picture of your employer brand image – the question is, do you like what you see? And if the answer is no then you'll need to find a way to change those negatives into positives.
Survey current employees
Once you have done your desktop analysis you should meet with key stakeholders of the business to discuss your findings and to get their opinions on what your "employer brand image" is, based upon the information you discover as well as information you have about your company culture, working environment and EVP's. Once you have a rough idea of the elements that make up this brand image you'll want to survey your employees (current and if possible past) to determine how accurate your perceptions are. The Director for example may have an overly positive view of your brand image in comparison to your employees, so it's important to discover what the reality really is to ensure your brand image is authentic.
Map out your brand architecture
The brand architecture will help give you the base for future employer branding campaigns and give you a clear picture of what your brand image is. To build this you'll want to discover your employer brand essence, employer brand vision, and your employer brand values (which should align with the corporate values you already have). You will want to define your EVP's (employer value propositions), define the imagery you use to showcase your employer brand and any slogans you will use too. Here's a brief example from our sister company Searchability to outline: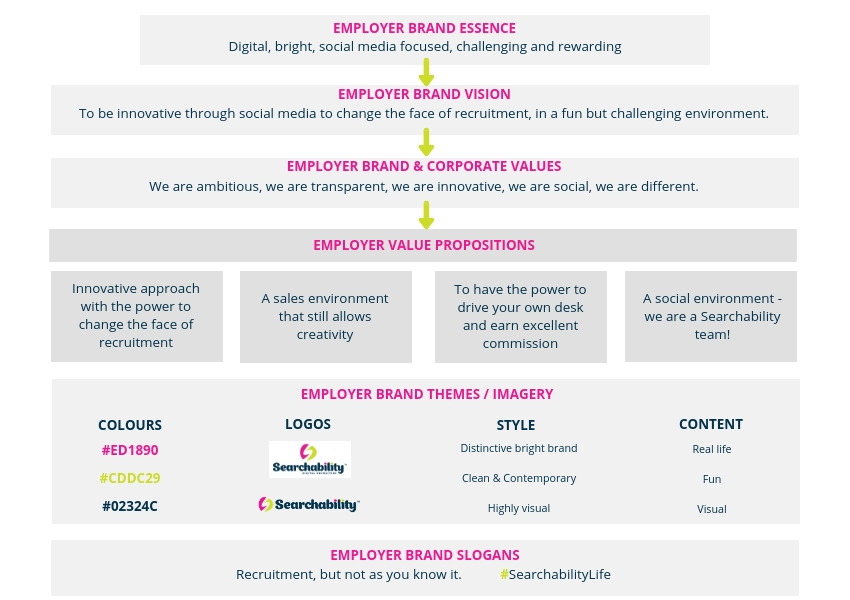 Use this as a template for your employer branding activities to help promote your brand image.
How can brand image impact candidate attraction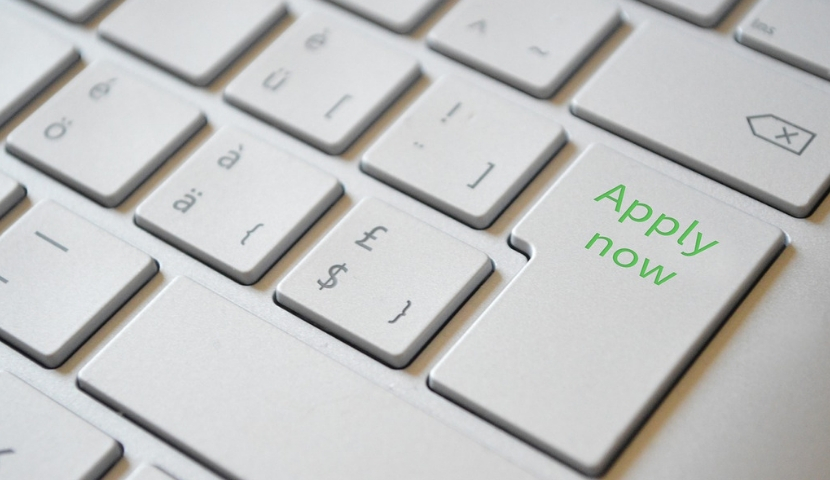 Discovering your employer brand image through a desktop analysis, key stakeholder meetings and employee surveys will have given you a good idea of what your employer brand image is. Whether this is positive or negative will have an impact upon your ability to attract candidates.
Example of a negative brand image
A company that has been affected by a negative brand image recently is Sports Direct. The Retailer came under fire recently for reportedly failing to give 383 employees the minimum wage (a total shortage of £167,000), a media storm that saw their brand image take a huge downturn. If you drop onto their Glassdoor you'll also be greeted with a below average star rating with reviews including "The managers bully you, it's disgusting" and "do not work here", which of course won't necessarily represent the full reality but there is no question that it paints a negative brand image in the eyes of potential candidates. When a company is regularly being discussed in the media in a negative way and employees are sharing negative experiences online it is going to cause an issue for attracting future candidates. After all, why would you choose to join an organisation that is viewed poorly in comparison with a company with a good brand reputation?
Example of a positive brand image
One company that regularly tops the "Best Places to Work" charts is Google. For years Google has been able to build and promote an employer brand that sees the company receive as many as 2 million job applications every year. The reason why? Google are widely recognised for their amazing benefits (e.g. free gourmet food, on-site health services, bring your pet to work, on-site gym, beautiful offices etc.), but this surprisingly isn't the main reason for Google's attractive employer brand image. Instead it is their commitment to their employee's happiness, health and well-being that has lead to their "top place to work" status, topping Glassdoor's UK's Top 10 Best Places to Work in 2018. Good publicity and employee advocacy will spread the word about your organisation and the specifics of why people think it is a "good place to work", encouraging more direct applications which helps to reduce your reliance upon expensive recruitment agencies to find people.
What do you do if your brand image isn't perfect?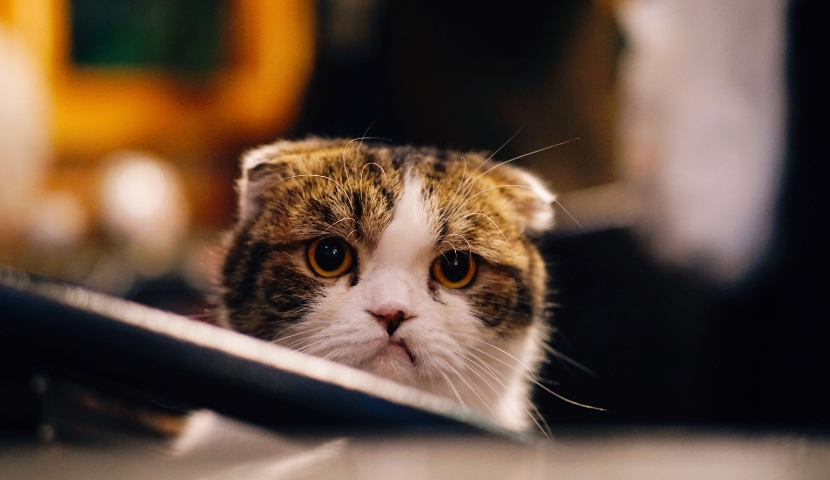 Even the Google's of the world can't please every employee, but if you are concerned about your brand image affecting your ability to recruit then you can do something about it.
Negative Employee Reviews
Online reviews have a big impact on a company's brand image, but the frustrating thing is you are more likely to receive a review from someone who is unhappy and wanting the vent a frustration than employees who are happy and content in their role. Combat negative reviews by inviting your happy and engaged employees to submit a review too, which will boost your overall rating and water down the unhappy reviews! Don't just ignore those negative reviews however as you could be missing out on a major issue that you need to rectify which eventually could lead to employees leaving. Check out our blog How to fix your poor Glassdoor rating in 6 steps to learn more.
Disgruntled Customers
If a customer is unhappy with your service they are more likely to take to social media to share their frustrations with the world than sit on hold to your customer services team. Public venting gets you heard quicker, and that means the companies with unhappy customers are likely to have these comments splashed across their social media – not a great first impression for candidates looking to apply for a job role! If this sounds familiar, the first thing you need to do is create a standalone careers focused social media presence, so that candidates dropping onto your pages will be able to learn about your employer brand away from the noise of unhappy customers, but most importantly, listen and react to your comments as you may learn something that can help your company improve customer satisfaction long term!
If you'd like to learn more about how you can shape your brand image for candidate attraction then get in touch with an employer brand consultant today at [email protected] or call 01244 567 967.