The JobHoller team are back in our Chester HQ after an incredible few days in Lisbon for the 2019 World Employer Branding Day, where we attended as Gold Country partners and delivered a workshop of our own to 270 industry leaders! We thoroughly enjoyed presenting our ideas around social media as a platform to attract and engage candidates, but what we REALLY enjoyed was hearing from so many other inspiring employer brand leaders from across the globe about the exciting developments they have made this year! The conference was jam packed with great employer brand content, but we have rounded up just 10 of our top take-away's to share with you all!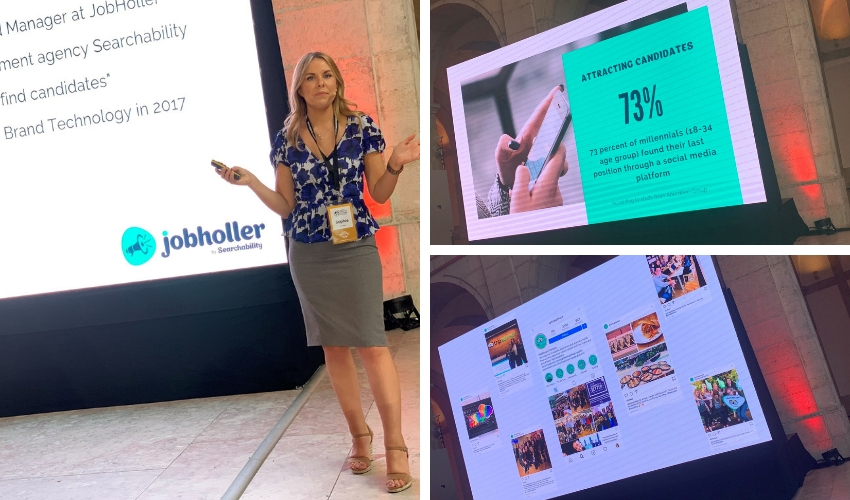 Above: Sophie Hopley delivering her workshop "The Campaign Approach: Social media as a platform to attract and engage candidates"
10 Key Lessons from the 2019 World Employer Branding Day:
Inclusion should be at the heart of the employer brand strategy
Inclusion within recruitment has been an extremely hot topic over the last 12 months so it is no surprise to learn that more companies have started to encompass this within their employer brand strategies too. One particular moment that left us feeling a little misty-eyed was an example shown by Holly Lignelli (Head of Talent Brand, Global Accounts and Connected Enterprise at LinkedIn). Holly showed us a video from Vodafone which highlighted the additional baggage carried by employees who identify as LGBT+ as opposed to those who identify as heterosexual. The video emphasised how companies who prioritise inclusion within their employer brand strategy are more likely to create an environment where employees can be themselves, which has a huge impact upon employee happiness, retention, as well as the ability to attract a more diverse workforce for the future too. You can check out the video below.
Authenticity is harder than it sounds
Being authentic is something we preach about A LOT within employer branding. An authentic portrayal of your employer brand will help you showcase what makes you unique, and it will also help you to attract more candidates who resonate with your real-life culture (and therefore more likely to stay with your company for longer). Authenticity however isn't as simple to showcase as it seems, which Co-Founder of PathMotion Alon Laniado illustrated with his talk around "how to use persuasive stories to improve your employer brand in an authentic way". A picture of smiling employees playing ping pong will not convince your candidates that life at your company is genuinely like that every single day, so instead you should look at ways you can introduce genuine authenticity into your employer brand strategy! One suggestion Alon had was introducing your employees into the story, inviting them to open up key insights to interested candidates through a simple Q&A function. Candidates want to know the real nitty gritty of what it's like to work at your organisation (which is why platforms like Glassdoor have grown so much over the years), so consider this when promoting yours online.
Advocacy can be a fantastic way to promote your employer brand
Employee advocacy is something we wax lyrical about A LOT, because it's a fantastic way to amplify your social reach, diversify the voice of your employer brand and build more trust from a candidate's perspective. We attended a very inspiring workshop from Rhiannon Stroud (Head of Strategy at Synergy Creative) who spoke all about how activating an employee ambassador programme can enhance your communication strategy. Rhiannon used two corporate examples of brand growth through influencer marketing, Daniel Wellington (who turned $15,000 into £220 million in 4 years) and Gymshark (who are valued at around £400 million after just 7 years). If those figures aren't enough to make you sit up and take notice, I don't know what will! The same approach to influencer marketing applied to an employee communication strategy can vastly increase your employer brand presence online, so why not create a unique hashtag, give your employees the relevant training and let your employees become your best marketing tool!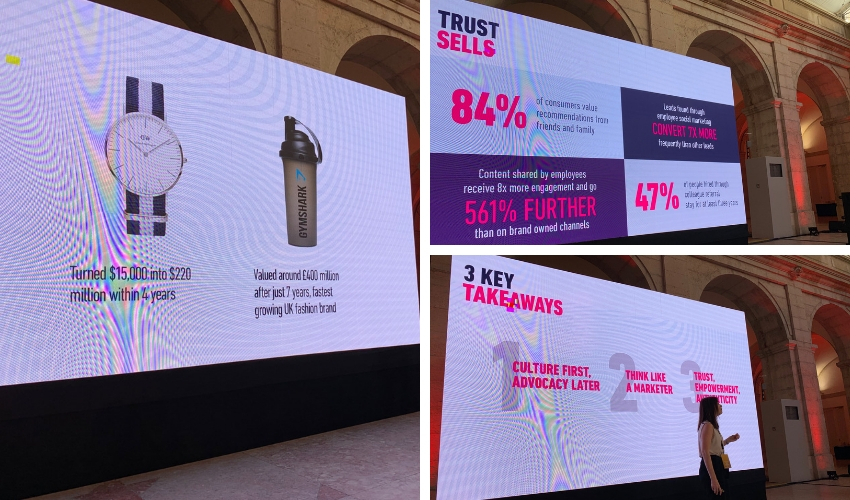 Above: Rhiannon Stroud presenting "Build employer brand advocacy at the heart of your organisation"
Employee engagement is a must
One of our favourite talks we heard was from Svante Randlert, a popular Swedish lecturer who speaks at events like this over 150 times a year! Svante pointed out that it is a company's engaged employees who drive their organisations forward, yet having "engaged people" is something that can not be simply copied from your competitors! To foster engagement (which he suggested was a recipe of clarity and energy) your culture needs to replicate this, your employees need to genuinely enjoy working for you and they need to have the space and support to thrive within their role. Svante used an interesting metaphor, by keeping a "bird" tightly in your hand you might hold on to that bird (or employee), but by allowing that "bird" freedom to spread its wings (with the trust that it will stay) is much more conducive to employee engagement. Retention shouldn't be just about "keeping people", but instead creating the environment and allowing the development that makes people want to stay and thrive with your company.
You have to avoid employer "blanding"
One of the main purposes of employer branding is to excite and attract potential candidates to your organisation, and quite frankly an uninspiring, undistinctive and safe brand concept will struggle to achieve this. We heard from two inspiring guys from Tonic – Tom Chesterton (Chief Executive and Co-Founder) and Mark Horley (Executive Creative Director) all about avoiding "brand bland". They stressed the importance of employers having a genuine point of view in order to attract candidates, because it gives people something to truly stand behind and believe in. One inspiring story we saw was for a recent campaign they created for the Metropolitan Police, called "Do Something Real", which showed how the Metropolitan Police are demonstrating a purpose led employer brand – you can check out the video below:
On boarding should not be overlooked
According to statistics from the Allied Workforce Mobility Survey, companies who don't consider employee onboarding lose 25% of all new employees. That is a pretty shocking statistic! Those first few weeks are crucial to employee retention, and a lot of it boils down to one thing: experience. The experience a candidate has from application to onboarding have a huge impact upon your ability to engage and delight your employees, and this is something we heard about from Katia Labrapoulou from DHL about how they are approaching employee onboarding. All employee's contracts are delivered in a fully branded DHL contract folder, they follow this up with a hand delivered "DHL in a box" which includes a branded DHL tablet along with key information for their new role, and finally a branded employee's journal and leaders guide. All of these assets are delivered to their employees before they start with DHL, to welcome them to the DHL family, surprise and delight them before their first day, and deliver that crucial on boarding information in a unique way for their organisation. They also use a "DHL Buddy" scheme, making those few days where you are finding your feet in a new role less daunting!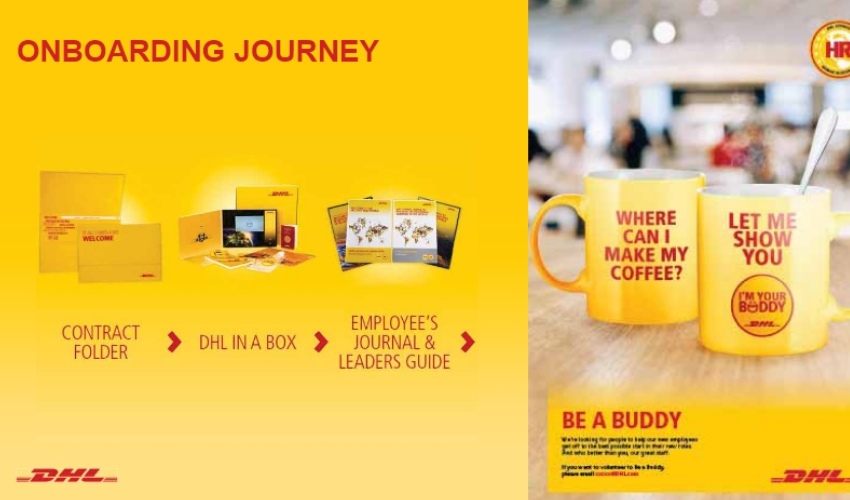 Above: Slide from Top Employers Institute & DHL's talk on "Enriching the World of Work"
Video isn't everything…
It seems that everyone is prioritising the use of video in their corporate marketing strategies, yet we heard a brilliant talk from Amir Moini – Head of Employer Branding at Netflix who stressed the fact that video is overrated! When Netflix (the world's leading internet video entertainment service) say you don't have to use video in your employer branding strategy you sure sit up and take notice! Amir pointed out that this isn't to say that video doesn't work at all, but instead Netflix have had more success through prioritising their efforts on fewer but more impactful projects such as the "WeAreNetflix Podcast", careers site and social channels. It's better to execute fewer employer branding projects really well than try to do everything half-heartedly, and if video isn't in your plans don't sweat it, there's still a lot you can do to promote your employer brand!
…But when you do choose video, you can probably do it yourself
We absolutely love the guys at Branded Careers – they are a Belgian Employer Brand Company who promise to "make you smile on a Monday morning". We heard an inspiring talk from their CEO (Chief Enthusiasm Officer) Johan Driessens at Thursday's conference and we also had the pleasure of taking part in workshop with Branded Careers to show how we can become "The Spielberg of our own employer brand!". Video doesn't have to be big budget, professionally produced and time consuming to create! You can script, produce and edit videos with just an iPhone and a piece of free software such as Magisto! Branded Careers believe video is great to showcase your workplace, your people and your culture, and most importantly for demonstrating what makes you authentic and unique! To get started why not map out your own employer branding life-cycle and pinpoint how you could use video (e.g. to bring a job description to life or to use in employee onboarding!).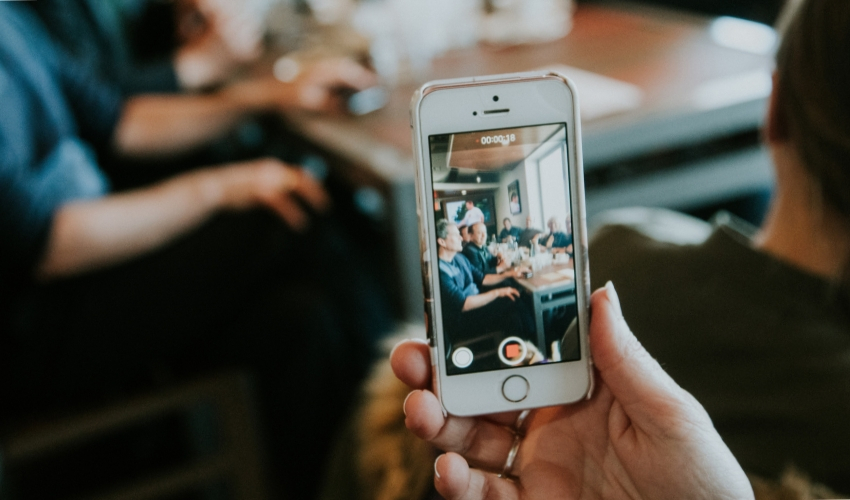 Job descriptions are still hugely important
There were a lot of takeaways from World Employer Branding Day around marketing campaigns, strategy and purpose, but one thing that Steven Ehrlich (Senior Vice President at TMP Worldwide) illustrated was that the job description is the most visible element of your employer brand, in fact their data insights suggest that 48% of candidates who apply for a role see only the job description. If a candidate's only interaction with your employer brand is a text based job advert, and no visibility of your awesome careers site, blog content and showcase videos then you need to consider how you can still communicate your employer brand via the job advert. Steven firstly stressed the importance of optimising your careers site for Google for jobs listings, but also highlighted how important it is to use audience segmentation when creating your job adverts / descriptions as different levels of candidates prioritise different elements of information. For us, the job description always needs to be concise, informative, transparent on things like salary / benefits and most importantly showcase who you are and what makes you unique as an employer!
The industry is rapidly growing
This is what we find really exciting! This year's event saw 750 employer brand industry leaders gather from across the globe, with 45 different nationalities in attendance! More and more companies are beginning to invest in employer branding at a strategic level and understanding how it can help them to attract, engage and retain great talent. A huge shout out goes to Brett Minchington and the Employer Brand International team for putting on such a fantastic event – excited to see where 2020 will be held!